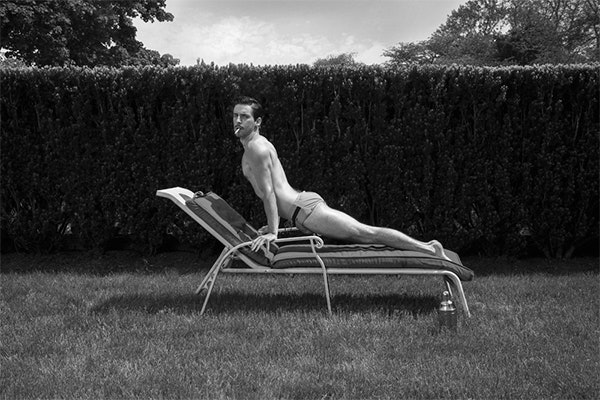 Henry Busby
DE
Henry's Geschichte begann, so wie manch andere großartige Geschichte. Umgeben von einer Kultur, unfassbarer Geschichtenerzähler, ist er in Alabama aufgewachsen (den Akzent kann man immer noch wahrnehmen, allerdings nur wenn er ein paar Gläser getrunken hat).
Er war bekannt dafür ein wenig zur Übertreibung zu neigen und glaubte unentwegt daran, dass die Regie ein sicherer Ort sei, um die Details der Realität so optimieren zu können, dass am Ende etwas mehr Ergreifendes entsteht. Er verbrachte seine Jugend damit Comics zu zeichnen und Trickfilme zu kreieren, die er dann an Freunde verschenkte, bevor er begann malerisch aktiv zu werden, zu fotografieren und sich schlussendlich der Filmkunst zu widmen.
Ein Projekt mit Freunden verschaffte ihm Aufmerksamkeit, um als Regisseur wahrgenommen zu werden. So ging es kurzerhand nach Brooklyn, New York und das ohne Rückfahrkarte, in die Wohnung, die er heute, 5 Jahre später, immer noch sein zu Hause nennt.
Aufgrund seines Interesses in Menschen und deren Geschichten, lässt sich Henry vor allem von den Menschen inspirieren, die anders ticken als er selbst. Er ist fasziniert von jeglicher Art des Filmemachens, die es schafft, den Rhythmus des wahren Lebens tatsächlich darzustellen.
Unaufhörlich arbeitet er daran, die authentische Art und Weise seiner Geschichtenerzählung zu verbessern. Vor allem die letzten Jahre waren signifikant für Henry, sodass seine Stimme klar und deutlich Gehör finden konnte. Er hat sich sehr schnell zu einem angesagten Regisseur für Musikvideos und Werbefilme entwickelt.
Ein Bereich den Henry besonders faszinierend findet, ist die vielfältige Welt des Sports. Zu seinen Kunden zählen Größen wie NBC Sports, Dick's Sporting Goods und Everlast. Er ist der Meinung, dass es in dieser Sparte noch so viel zu zeigen und zu erzählen gibt, über die Erfahrungen wie es ist ein Athlet zu sein… das Gute, das Schlechte und eben auch die unschönen Seiten aufzuzeigen. Wie dem auch sei, seine Arbeit geht weit über den Bereich des Sports hinaus und die Geschichten des Einzelnen sind der zentrale Ansatz für ihn um Filme zu machen, unabhängig vom Thema.
Seine Arbeiten wurden von der Huffington Post, Nowness, NPR und vielfach von Vimeo Staff Picks empfohlen. 2017 wurde er als 'Next Director' von D&AD bezeichnet und für den Award 'Young Gun 15', auf der Veranstaltung The Club For Creativity auserwählt.
EN
Henry's story started out the way all great stories start. Growing up in a culture of incredible storytellers in Alabama (the accent is still there, but it takes a few drinks before you'll hear it), he was known to exaggerate somewhat, and consequently believes that directing is a place where that tendency to tweak the details of reality into something more poignant is safe. He spent his youth drawing comics and making cartoons which he'd give away to friends in the carpool line, before organically exploring painting, photography and eventually cinematography as a way of self-expression. A project with friends helped get him some initial attention as a director, a one way ticket to Brooklyn, New York, and to an apartment he still lives in now, five years on.

With an interest in people and their stories, Henry draws inspiration from getting to know minds that don't work like his, and loves any type of filmmaking that replicates the rhythms of real life. As he continues to hone his authentic and unfurling style of storytelling, the last couple of years have been significant in representing Henry's voice most clearly as he fast becomes a highly sought-after director for music videos, content and commercials alike.

To date, he's explored a vast array of sports, with clients such as NBC Sports, Dick's Sporting Goods and Everlast, and thinks there's still a lot to show and tell about the experience of being an athlete… the good, the bad, and the ugly. His work, however, extends well beyond sport, and individual stories lie central to his approach to filmmaking regardless of subject.
His work has been featured by Huffington Post, NOWNESS, NPR, and numerous times by Vimeo Staff Picks. In 2017 he was named 'Next Director' by D&AD, and was picked for 'Young Gun 15' at The One Club For Creativity.