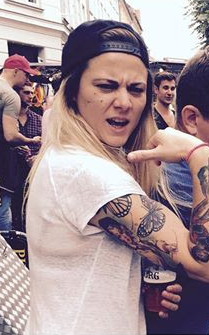 AJ Colomb
DE
AJ Colomb, wohnhaft in London, begann ihre ersten Filmerfahrungen als Setrunner und kochte Tee für's Frühstücksfernsehen. Aus der Teeküche heraus, gings weiter zur Filmhochschule. Danach fing sie an Werbung zu drehen.
Nebenbei baute AJ auch noch ihre inzwischen sehr erfolgreiche Firma AJ Collective auf und gestaltete Treatments für internationale Regisseure, wie Ridley Scott, Danny Kleinmann oder Megaforce.
Sie weiss was sie tut und Comedy ist ihr Ding. Die ist mal leise, mal laut und manchmal auch ganz schön frech. Und auch mal am Rand der Tabus, wie beispielsweise ihr Film für Rabbit zeigt.

EN

AJ Colomb, living in London, began her first film experiences as a set runner and cooked tea for breakfast television. From the tea kitchen, she went on to film school. After that she started shooting commercials.
At the same time AJ also built up her meanwhile very successful company AJ Collective and designed treatments for international directors like Ridley Scott, Danny Kleinmann or Megaforce.
She knows what she is doing and comedy is her thing. Sometimes quiet, sometimes loud and sometimes quite cheeky. And sometimes on the edge of taboos, like her film for Rabbit shows.