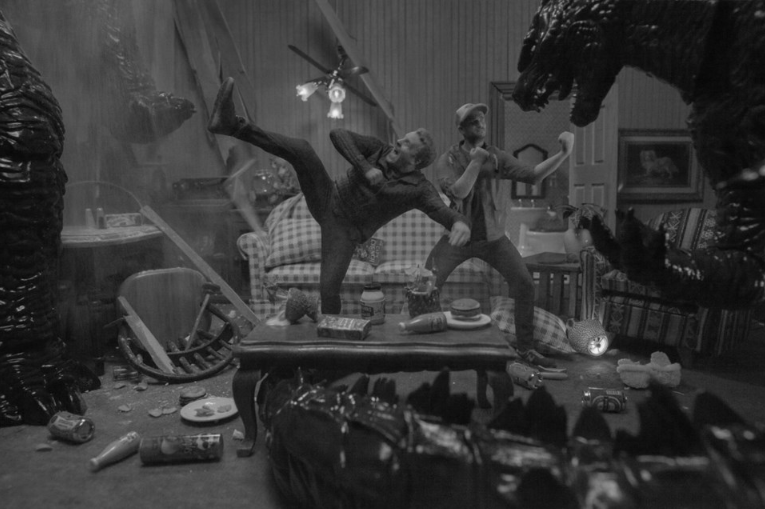 DE
Aircastle ist ein Regieduo aus Canada. Partner im Film und Abenteuer seit sie sich im Filmproduktionsprogramm der Yorker Universität kennen gelernt haben. Die Partnerschaft des Duos hält schon länger an als so manche Ehe. Sie teilen sich ein Telefonplan für Paare und können, wenn nötig, auf engstem Raum zusammen leben.
Die beiden haben bei ihrer ersten Zusammenarbeit Aufsehen auf sich gezogen, als sie sich weigerten ihre Abschlussarbeit im kanadischen Winter zu drehen. Stattdessen brachen sie 1993 in einem Buick LeSabre auf und machten sich mit einem Super-16-mm-Film und einem Comedy-Skript nach Süden auf. Tausende von Meilen später stießen sie auf die verschlafene Stadt Genf in Zentralflorida. Diese Community wurde nicht nur zum Schauplatz, sondern auch zu einer Figur im Film, die auf dem Festivalkreis ein Hit war. Sie wurde auf großen Festivals auf der ganzen Welt gezeigt und als eine der Top Ten des Toronto International Film Festival anerkannt. Es war eine prägende Erfahrung, als die Jungs auf wohlmeinende bewaffnete Männer, Alligatoren und häufige Fahrzeugpannen stießen, aus denen sis unversehrt heraus kamen und ihre bisher unbestrittene Theorie bestärkten, dass sie alles überleben können.

Aircastle ist mit Catvertising in die kommerzielle Welt vorgedrungen und hat sich schnell eine unverwechselbare Stimme in der Komödie geschaffen. Reiche Bildwelten, liebenswerte Charaktere und einprägsame Performances kennzeichnen ihre Arbeit. Auf dem Weg haben sie zahlreiche Auszeichnungen in Cannes, das One Show Film Festival, die Webby Awards, die Clios und die D & AD's erhalten, um nur einige zu nennen. Als Geschichtenerzähler und Filmemacher zeichnen sie sich durch ein kooperatives Umfeld aus und haben dauerhafte Beziehungen zu Agenturkreativen geknüpft, die Ideen zusammenbringen und gemeinsam das Lustige finden wollen.

Jahre nach ihrem Road-Trip nach Florida sind sie immer noch von jedem Schritt des Set-Ups überwältigt, ohne zu vergessen, was für ein Privileg es ist, das tun zu können, was man liebt.

EN
Aircastle is a directing team hailing from Canada. Collaborators in film and adventure since meeting in York University's Film Production program, the duo's creative partnership has already outlasted most marriages. They share a couples phone plan, and when necessary live in confined spaces together.
The guys made waves with their first collaboration by refusing to shoot their thesis film in the dead of Canadian winter. Instead they set out in a 1993 Buick LeSabre and headed south, armed with some Super 16mm film and a comedy script. Thousands of miles later, they stumbled upon the sleepy community of Geneva in central Florida. This community became not only the setting but a character in the film which was a hit on the festival circuit, screening at major festivals around the world and being recognized as one of the Toronto International Film Festival's Top Ten. It was a formative experience as the guys encountered well-meaning armed men, alligators, and frequent vehicle breakdowns, coming out unscathed and reinforcing their as-yet-undisputed theory that they can survive anything.
Breaking into the commercial world with Catvertising, Aircastle has quickly carved out a distinctive voice in comedy. Rich visual worlds, endearing characters and memorable performances are hallmarks of their work. Along the way they've accumulated numerous accolades at Cannes, the One Show Film Festival, the Webby Awards, the Clios, and the D&AD's to name a few. As storytellers and filmmakers they excel in collaborative environments, and have forged lasting relationships with agency creatives who want to workshop ideas and find the funny together.
Years after their road trip to Florida they are still blown away every time they step on set, never forgetting what a privilege it is to be able to do what you love.