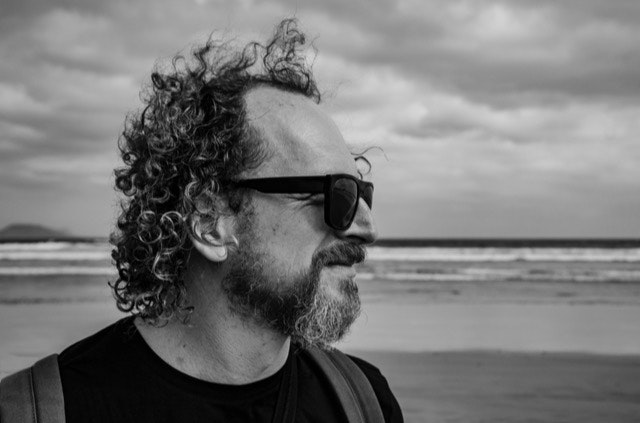 Bastian Kuhn
DE
Bastian wurde von Fernsehshows der 90er und Cola Light großgezogen. Als Teenager baute und crashte er einen Haufen ferngesteuerter Flugzeuge, Autos und Schiffe. Aber seine erste wahre Liebe war das Schlagzeug. Auf unzähligen Shows und einem Album folgte der nächste logische Schritt: Eine Ausbildung zum Photograph. Und obwohl er bis heute noch leidenschaftlich gerne photographiert, hatte er schnell das Gefühl, dass es nicht sein Medium ist Geschichten so zu erzählen, wie er es wollte. Ein Wechsel zum Film wäre die offensichtliche Antwort gewesen aber statt dessen studierte er Design und begann als Kreativer in der Werbung zu arbeiten. Während seiner Zeit in Agenturen wie heimat und DDB gewann er viele Awards und – was viel wichtiger war – die Erkenntnis, daß Film und Storytelling seine wahre Berufung sind.
Wenn er nicht gerade für Marken wie Audi, Mercedes-Benz, TUI oder Beiersdorf dreht, verbringt er seine Tage damit, Kurzfilme zu schreiben, Brot zu backen oder sich von seinen Zwillingstöchtern in Mario Kart abziehen zu lassen.
EN
Bastian was raised on 90's TV shows and Diet Coke. Growing up, he built, crashed and blew up innumerable remote controlled airplanes, cars and boats. But his first true passion was music. He mastered the drums, played a gazillion gigs, recored an album and did the next logical thing: to study photography. And although to this day he loves taking pictures it didn't provide him with the right tools to tell the stories he wanted to tell. Switching to film would have been the obvious answer but instead he studied design and started to work in advertising. During his time at agencies like Heimat and DDB he won many awards but more importantly he realised his true calling: storytelling and film.
When he is not shooting for brands like Audi, Mercedes-Benz, TUI or Beiersdorf he spends his days writing short films, baking bread and getting his butt kicked in Mario Kart by his teenage twin daughters.