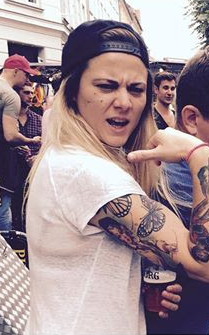 AJ Colomb
DE
Während sie noch ins College ging, machte AJ Colomb, wie so viele in der Branche, ihre ersten Erfahrungen als Setrunner, mit unter beim Tee kochen für's Frühstücksfernsehen. Dies brachte sie aber nicht davon ab Film zu studieren und schon bald in ganz Europa für kleine Budgets zu drehen.
Ihre Arbeit zeichnet sich durch eine kühne Menschlichkeit und einen Sinn für Humor aus, der nicht scheut auch mal an den Rand des Tabus zu kommen - wie beispielsweise ihr Film für Rabbit zeigt.
AJ - ein eingefleischter Liverpool-Fan - ist besonders stolz darauf, das offizielle Musikvideo für 'You'll Never Walk Alone' von Gerry und den Pacemakers zu leiten.
Mit ihrer positiven Energie möchte sie nun auch in Deutschland durchstarten.

EN

Known for her skills in creative research, AJ Colomb started out in the industry making tea and running on sets for Saturday morning telly while still at college. She moved on to study film and was soon shooting all over Europe on shoestring budgets.
Her work is characterised by a bold humanity and sense of humour which isn't afraid to approach the fringes of taboo - just take a look at her film for Rabbit.
AJ - a diehard Liverpool fan - is particularly proud of helming the official music video for 'You'll Never Walk Alone' by Gerry and the Pacemakers.

She now wants to explore with her positive energy the german commercial world.